MBA Prerequisites
Candidates who lack competencies below will be evaluated on their GMAT or GRE score, and/or may be asked to complete external modules to demonstrate quantitative proficiency. Examples of demonstrated quantitative methods knowledge may include, but are not limited to the following: Computer Science, Economics, Engineering, Finance or Mathematics/Statistics. Exposure to statistics, multivariable calculus and/or linear algebra are highly recommended for candidates interested in Data Analytics and Finance.
---
Application Requirements
Application
Essay

An earned bachelor's degree from an accredited college or university; 

Official transcripts

Two years or more of professional full-time work experience; 

Current resume

Application fee
Enrollment deposit
1 letter of recommendation
National standardized admission test requirement (waivers are available)
Additional documents needed from international applicants seeking to study in the U.S.
---
Essay
Essay should be no more than 500 words, detailing your interest in the MBA program and how it fits into your career goals.
---
Letter of Recommendation
One letter of recommendation; from a supervisor (current or former). Our school will accept the GMAC Common Letter of Recommendation (LOR)
Recommender to download the

Common Letter of Recommendation (LOR)

PDF

Recommender to complete the template offline and save a final version to their computer (Applicant Last Name, Applicant First Name)
Recommender to directly email the LOR PDF to the Office of Graduate and Advancing Education, graduate@tcnj.edu 
---
GMAT or GRE Test Requirement
Graduate Management Admission Test (GMAT) or Graduate Records Examination (GRE) taken within the last five years*
TCNJ GMAT Program Code: BRS-K7-52
TCNJ GRE Program Code: R2519
Students who graduated with a cumulative GPA of 3.5 or above and demonstrated quantitative competencies or have completed an advanced degree may be exempt from taking the required GMAT or GRE. Additionally, the GMAT or GRE exam may be waived for candidates with 8 or more years of professional full-time work experience along with a cumulative GPA of 3.0 or above. Waivers will be considered case-by-case as the MBA Director grants or denies waivers based on their assessment of the applicant's probability of success. Waiver requests should be sent to the MBA Director at mba@tcnj.edu.  
Mini GMAT Quiz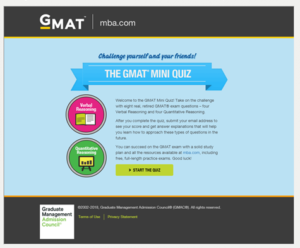 ---
Fall Application Deadlines
Applications are reviewed on a rolling basis after the April 1st. Only completed applications will be reviewed for admissions.
---
Tuition & Costs
The College of New Jersey provides a high quality education at a lower than average cost than other schools of similar quality.
Courses
14 
Tuition (3 credits)
$2,821.68
Fees
-General Service
-Student Center
-Card Service 
$432.44
Total
$45,557.68
Admitted students will be required to pay a $500 enrollment deposit, four weeks after their admission offer.
The College of New Jersey provides a high quality education at a lower than average cost than other schools of similar quality. The tuition and fees listed above are estimated for the fall 2019 academic year. Figures may change without notice and upon action of the Board of Trustees. Future academic years tuition and fees are subject to 2.5% increase. 
---
Financial Aid
Students pursuing a graduate degree at TCNJ may be eligible for some types of student financial assistance, including but not limited to student loans and assistantships. Graduate students must follow the same steps as undergraduates in applying for federal loan assistance.
Graduate students must be enrolled in at least five credit hours at the 500 level or above in order to be eligible for student loan assistance and for TCNJ to certify enrollment for a loan repayment deferment.
Semester Enrollment Requirements for Graduate Students
Full-time status = 9 or more credit hours
Half-time status = 5 credit hours
The enrollment requirements pertain to individual summer session enrollment as well.
TCNJ Alumni Scholarship
Earn a $5000 scholarship towards a TCNJ MBA! Available to all TCNJ alumni, a $5,000 tuition scholarship will be awarded in two parts:
Year 1: $2500 applied to Fall tuition
Year 2: $2500 applied to Fall tuition
The full $5000 alumni scholarship is available for up to three years from the start of entering the MBA program.
---
International Students
TCNJ cannot sponsor students who do not already have eligibility to study in their current immigration status (i.e. employment visa, green card). Students with questions about their eligibility to study can discuss their status with International Student Services iss@tcnj.edu.